2016 FIAT 500e Augusta GA
2016 Fiat 500e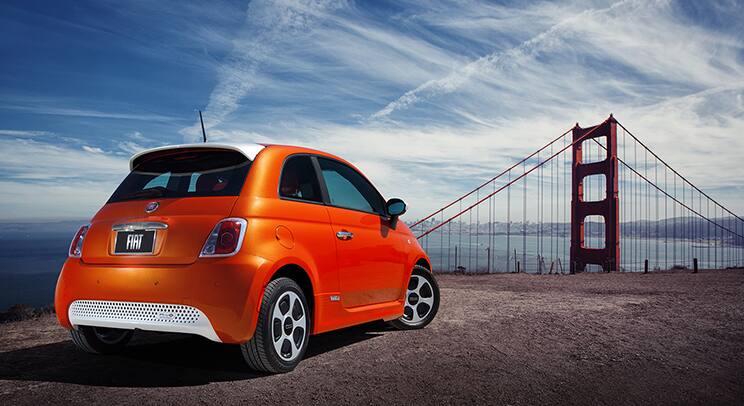 Inventory
Get Financing
Service
Find Parts
Contact Us
2016 Fiat 500e at Thomson Dodge Chrysler Jeep Ram FIAT
Time to get with the times and start protecting the Earth with a zero-emissions car, and that car is the 2016 Fiat 500e. Without sacrificing style or power, this incarnation of the Fiat's electric vehicle is the trend of the future, today. The 500e features 5.0 Uconnect system with 5-inch touchscreen radio, Bluetooth connectivity and integrated voice command. Per charge, it delivers 108 MPGe highway rating and 87 miles of combined city/highway driving range, with city driving range typically more than 100 miles. This is excellent for easily buzzing about the city on myriad little errands, all while feeling good about your environmentally responsible zero tailpipe emissions and the EPA-estimated annual fuel-equivalent cost of $500. And in 2016 it's available in 2 more new colors: Grigio Cenre (light gray) and Rhino (dark gray).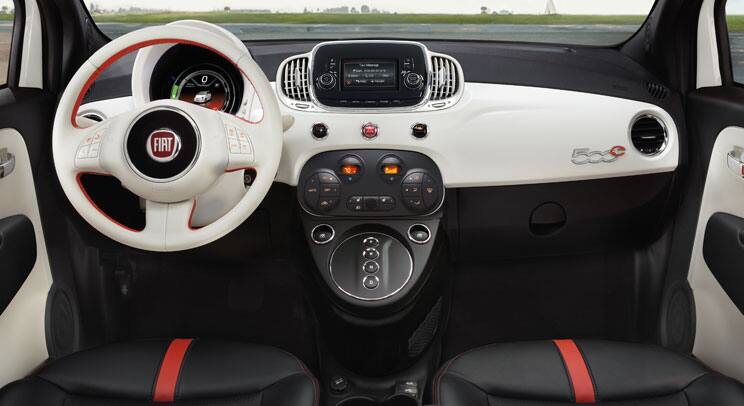 Under the 500e's Hood
This EV is intended to be a Fiat 500 caliber before all else, and that standard is met here by elaborating on the prior Cinquecento's proven small-car formula, and by the fact that engineers designed a unique chassis and suspension for the EV powertrain. Specifically, it's a liquid heated/cooled battery-electric powertrain that manufactures 111 horsepower (83 kW), recharges in less than 4 hours with its 6.6 kW on-board charging module (OBCM) when connected to a Level 2 energy source (220 volts). The smoothly-styled Fiat 500e was rated with 108 highway MPGe and front-of-its-class 87 miles of combined city and highway driving range by the EPA. And with the regenerative braking system, city drivers will typically exceed 100 miles – all without any tailpipe emissions. Unique in the EV segment is the Fiat 500e's pioneering "blended braking" system. Unlike other EVs with an unwanted, noticeable pedal drag, the 2016 Fiat 500e is designed to feel like a regular gasoline-powered Cinquecento, while still immediately regenerating. A special lower-body structure provides wrapping and fortification for the 2016 Fiat 500e's battery (a rechargeable 24-kWh lithium-ion battery pack), while also bringing a 10 percent improvement in bending stiffness. Also, the new front-to-rear weight distribution of 57/43 improves handling performance. Further, no specialized power station or plug connector is needed here, owners can plug it into any dedicated 240-volt outlet to charge (the same power and plug as used for a clothing dryer) or any dedicated regular 120-volt plug will also work (of course this will take noticeably longer). Still, I'm glad to have that available rather than worrying about not being able to charge it away from home, and also happy to hear it's a lithium-ion battery, which translates to charge it anytime and no need to run it all the way down first. From empty to full on a Level 2 (240 volt) takes just less than 4 hours!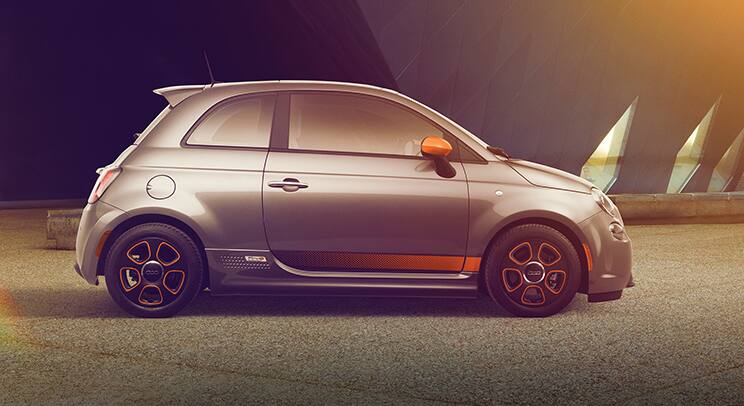 Design of Fiat 500e
The 2016 Fiat 500e pushes its iconic Italian design forward for today's efficiency expectations. To achieve a 13 percent improvement in aerodynamics (compared with the Fiat 500 Lounge), it features eight exterior improvements developed through more than 140 hours of wind tunnel testing. The result: an impressive extra five miles of range on the highway. And it's pretty quiet inside due to the 13 product enhancements that reduce cabin noise while driving by a measured 20 percent. A selection of these are improvements include: additional mastic patches on floor, acoustic pads to wheelhouse liners, isolated engine torque mount and an Acoustic windshield glass. Inside, Fiat 500e fuses retro-futuristic design with EV tech in a graceful way that combines simplicity with modernization. Its 7-inch thin-film transistor instrument cluster displays full-color picture graphics to display vehicle functions, charge levels and trip summary. Below its instrument panel bezel, the Fiat 500e also includes a special designed e-shifter with a push-button transmission mode. The 2016 Fiat 500e features the Uconnect 5.0 system with a 5-inch touchscreen that enables handsfree calling via Bluetooth-equipped phones, as well as voice-command control of AM/FM, and optional SiriusXM Radio and navigation system. The Fiat smartphone app enables real-time vehicle status, manages charging, tracks the driver's energy use, locates the vehicle and nearby charging stations, plans and sends routes to the vehicle and provides text-message and email alerts. The interior environment is available in Nero (black) or exclusive Steam (white), highlighted by Electric Orange or Gray. These unique interiors can be paired with eight available exterior paint colors, plus a white front fascia insert and white mirror caps are included with the Steam interior. There's actually a lot of room in the front seats for taller people, due to the higher seat cushions that improve legroom.
Conclusions
A welcome addition to the EV class, it's hip and fun to drive, and easily fits some light groceries in the backseat for the trip across town. Owners will enjoy having a fairly unique car amidst the masses, and being easily noticed handing it over to the valet at the local club, for example. The 2016 Fiat 500e comes standard with antilock disc brakes, stability and traction control, front seat side airbags, side curtain airbags, a driver knee airbag and active front head restraints. Safety also includes rear parking sensors, and there is even a warning sound is emitted at low speeds to warn pedestrians of the stealthy 500e's existence. In independent testing, it needed about 129 feet to stop from 60 mph, typical for small EVs. An electric motor provides its full torque immediately (unlike a gas engine) so the 500e accelerates energetically from a standstill. It's easy to parallel park, integrate into tight traffic patterns and also fit in the driveway at a packed neighborhood party. Driving feels much more like a non-electric car in that the accelerator pedal doesn't "grab" slowly on the way back up, and yet surprisingly the 500e more than matches other EV's regenerative braking levels. Couple this with the generous noise reduction efforts, the intensive aerodynamic improvements, and the stiffer body construction, the 500e undeniably gets bonus points for the attention paid to the EV driving experience.