2020 Gladiator Mojave Revealed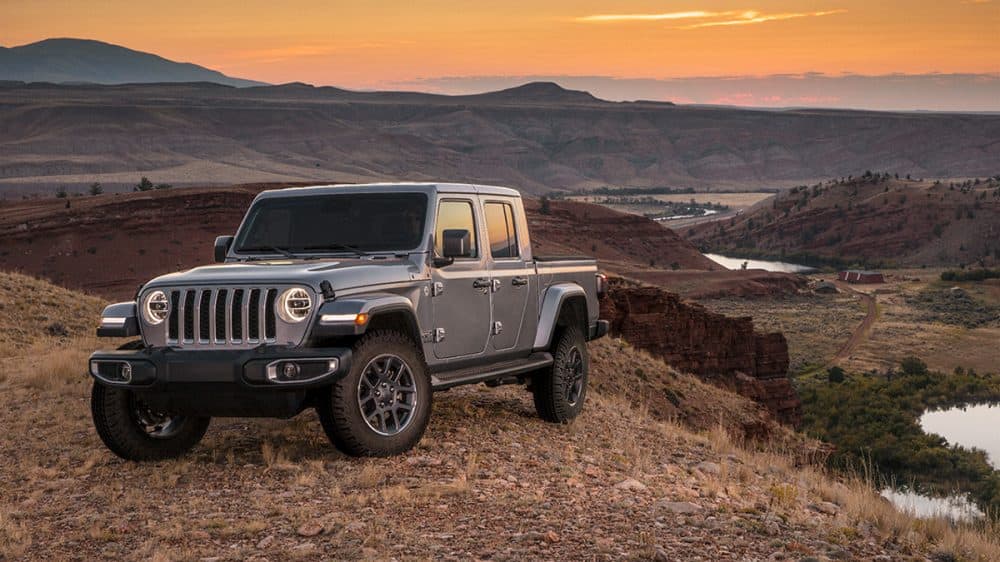 2020 Gladiator Mojave Revealed
By Thomson Dodge Chrysler Jeep RAM
Jeep is stepping on new ground with the introduction of the Gladiator Mojave, which is the first vehicle to carry the first-ever Desert Rated badge. Desert Rated vehicles represent the pinnacle in high-speed off-road ability and performance while traversing all the different desert and sand environments. The 4×4 capability has always been apart of Jeeps repertoire, and the new Gladiator Mojave adds to the legacy. The Jeep Gladiator already the most capable pickup truck on the planet, and it's now even better with the addition of this new model. There is so much more to go over with the Gladiator Mojave. Read on to find out all it has to offer!
Evolved 4X4 Capability
The all-new Gladiator Mojave can tackle the rough and tumble terrain thanks to a natural revolution in its 4×4 ability. Gladiator Mojave models come complete with a high-speed off-road capability and performance in sand environments as Jeeps renowned 4×4 system comes with exclusive upgrades and extensive testing over desert terrain for vehicle durability and protection. All Mojave models come with a specially tuned FOX 2.5-inch internal bypass shocks with external reservoirs as well as industry-exclusive FOX front hydraulic jounce bumpers, a reinforced frame, and a one-inch front suspension lift. Also included are stronger axles with cast-iron steering knuckles, aggressive front seats with integrated upper bolsters, and 33-inch Falken Wildpeak all-terrain tires. All of these features are the reason the Gladiator Mojave was given the brand's first Desert Rated badge.
A More Durable Suspension and High-Performance Shocks
To earn the first-ever Desert Rated badge, the Gladiator Mojave comes with specially-tuned high-performance FOX 2.5-inch internal bypass shocks that help maximize the handling of the pickup. The FOX shocks come with internal passages so that fluid can bypass the pistons through regulated ports as it moves through the suspension travel. The result is a smooth ride over off-road driving conditions and the ability to ramp things up on extreme surfaces. Additionally, the Gladiator Mojave comes with a one-inch front suspension with a silver front skid plate and standard 33-inch Falken Wildpeak All-terrain tires or optional Falken Wildpeak Mud-terrain tires. These impressive engineering enhancements provide a better ride control and driving confidence on any high-speed or desert terrain. Meanwhile, an off-road plus button allows drivers to take the Gladiator's tractive abilities to the next level. With the simple push of the button, drivers can adjust the throttle transmission shift points, and traction control for peak performance on higher speed passes on sand terrain. The new off-road plus features the ability for drivers to lock their rear axle at high rates for the first time on a Jeep.
Mojave Interior and Exterior
Inside, the Gladiator Mojave features aggressive front seats with integrated upper bolsters to hold passengers firmly in place. The new seats are available in either leather or cloth with orange accent stitching and embroidered Mojave logos. Two new colors are available for the Mojave, Black and Steel Gray, as well as a competition-inspired leather-wrapped steering wheel. There is also an aggressive rim section for extra grip and comfort. An optional off-road camera allows obstacles in the desert to be seen well.
Desert Rated
Desert Rated vehicles have the ultimate in Jeep vehicle's high-speed, off-road capability and performance across grueling desert and sand environments. Every Mojave is a Desert Rated 4X4 Jeep vehicle that has been developed and succeeded in five different categories. The first is Ride Control and Stability as the Mojave has a ground-breaking desert tuned suspension and can tackle undulating desert terrain with control and comfort. Second is Traction, as the Mojave strategically manages and delivers power while conquering irregular surfaces with confidence. The third is the Ground Clearance, which maximized running clearances with an optimized suspension that allows the Mojave to crest dunes and blast through anything the world throws at it. The fourth is maneuverability, as the agile responsiveness of the Mojave becomes an extension of the driver when navigation through challenging terrain. Finally, the Desert Prowess of the Mojave allows the pickup to withstand the intense heat, coarse sand, loose gravel, and intrusive dust that accompany desert environments.
Where to Purchase a Gladiator Mojave near Augusta
Here at Thomson Dodge Chrysler Jeep RAM, we want nothing more than to put you behind the wheel of one of these highly innovative pickups. Be sure to stop by the dealership and speak with one of our knowledgeable representatives and then take a test drive! You can also browse
our entire inventory
of Jeep Gladiators here on our website.